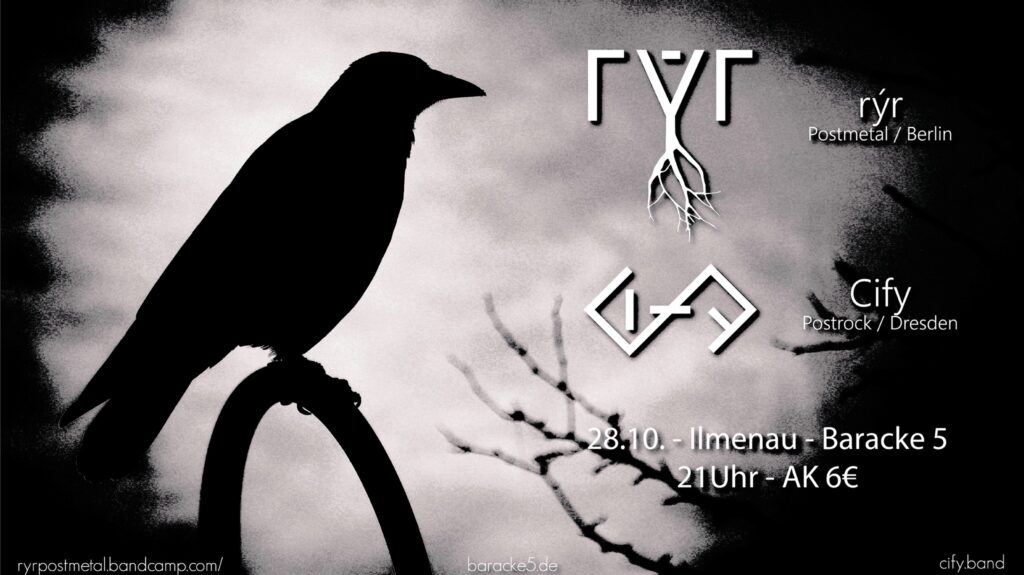 Am 28.10. wirds wieder düster, diesmal mit rýr [Postmetal // Berlin] und Cify [Postrock/-metal // Dresden].
Einlass ab 21Uhr
Beginn 22Uhr (pünktlich!)
AK: 6€
rýr
https://ryrpostmetal.bandcamp.com/
RYR's name comes from an Icelandic word meaning barren, spars or weak, and it is the name of this experimental/post metal band from Berlin, Germany formed in 2018. Their music is a moody and heavy instrumental post metal that also utilize clean riffs with their heavy riffs exploring textural contrasts. The music will appeal to fans of NEUROSIS, ISIS, CULT OF LUNA and PELICAN.
Cify
https://www.cify.band/
CIFY is the brainchild of Dresden-based musician and producer Ollie Moses (d). While being busy in the Tech-Death Metal combo DIVINE X for many years, Moses additionally collaborated with international heavy weights like Jona Nido and Louis Jucker from COILGUNS for his noise-core outfit PLOTZ. Nevertheless Moses felt the urge to explore some more of his uncanny introspections by writing the score for CIFY's debut Å in countless sleepless nights. In his wet daydreams he could only see this project coming to life with himself playing drums and involving his three closest long-time bros. Harry Vintage (g), Phil Tempest (g) and Clemer Clave (b) earned their spurs in jazz and heavy music over the last decade (DIEFLOWER, MAD RACOON, TORSTEN RICHTER TRIO) and were lured into Moses' own studio to forge this nasty phantasm into matter. After intense and hazy prep work, their debut album was recorded live within a week and the whole city ran out of Whisky.